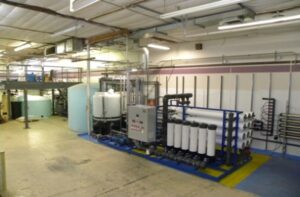 I am proud to announce that my company WITNG has entered the world of Reverse Osmosis membrane cleaning in a big, innovative and industry leading manner. RO membranes are one of the  most expensive part of your water system and there is great economic value in extending the life of these components as long as possible.
The cleaning of RO membranes is nothing new as there are several companies that offer these types of services. In addition, some RO machines are built with Clean In Place (CIP) technology on board. On paper, one would think that the cleaning of membranes is a routine process and customers should be able to obtain flawless, efficient, economical cleaning service. However, in the real world, up until now, the available approaches have really left the customer less than delighted. Here are the problems.
Owners of RO systems with CIP systems don't have the analytical skill, technology, and testing capability to determine exactly what the fouling items are, let alone develop a proper cleaning procedure.
Most RO systems have 3, 4 or more membranes in the same housing, and are reject staged so that onboard cleaning may use spent chemicals, and contaminants to "clean" later stage membranes.
RO cleaning services can charge as much as $225 per membrane cleaned.
Sending RO membranes away for cleaning generally means that the RO system cannot operate until the membranes are returned.
Now let's look at how I fix all of that!
My process uses only 2 membranes per cleaning vessels. The big guys use 5 or 6. The takeaway is that my cleanings involve cleaner water and chemicals, more accurate control of flow, pressure and temperature.
I can often turn membranes around in a matter of a few days. Our competitors typically require a 4-week turnaround. Let me clean your membranes and you will have the shortest downtime offered by the cleaning industry.
I can check each membrane individually, thereby helping you to make better choices of which membranes to keep and then selecting the most beneficial position in your staging to place the membrane.
Cost can easily be less than $170.00 per 8″ membrane.
We can supply loaner/rental membranes while yours are being cleaned.
Our shipping costs are the most competitive you will find.
In addition to cleaning, we sell both new and used membranes by Dow, Toray, Hydranautics, TriSep, HyFlux, Permionics, Norit, Inge and more.
BETTER! FASTER! CHEAPER! GIVE ME A CALL.
LET ME CLEAN YOUR MEMBRANES