As the world grows thirstier for water knowledge more and more of us are raising questions about our home water filters. Here are some of the better ones that people are asking.
Q: I have  a modular reverse osmosis system that has a quality indicator/ percent-rejection readout. If the green light is lit and my rejection is showing 98%+ does that mean my water is safe to drink?
A: Not necessarily.  Remember that an RO membrane lets some material pass through it.The rejection/performance indicator is only an indicator of ionic (mineral) rejection. Since city water supplies that feed the RO unit are generally safe to begin with, in most cases rejecting 98% of the minerals remaining is a pretty good safeguard that no  harmful inorganic contaminants are passing through. But beware, if the RO is passing only 2% of the inorganic contaminants and a toxic contaminant is very high in the tap water, it may find its way into your RO water. Also remember this, a tiny rip or tear in the RO membrane would not pass enough minerals for the RO quality meter to detect. However such a tear could allow bacteria to become attached to the membrane and grow to harmful levels in your drinking water.  For these reasons, it is always good to have your RO water analyzed by a lab periodically, and it is a good idea to sanitize the membrane a few times each year.
Q: Is it dangerous to keep using my water filter beyond the gallons it was recommended to filter?
A: This should be a no-brainer but people still ask. However, before we scoff, think about this; for an individual on a strict budget who also happens to be captive to a toxic municipal water supply the drive to get more gallons out of a water filter could mean the difference between feeding the kids versus having them go to bed hungry. Unfortunately, when home filters are used beyond their rated capacity some potentially bad things can and will start to happen. The worst threat is the growth of bacteria, algae, viruses and other organisms on the exhausted media.  Some filters will begin to break down and slough off filter particles and some of the toxic material they previously trapped. Please, find a way to change your cartridges.
Q: Why does my water smell fishy when I pass it through a new filter?
A: The fish odor that so many report is actually the smell of amines. Some home filters use ion exchange resin to achieve removal of metals, (minerals). The anion resin, that is to say the resin that removes negatively charged ions is well documented to give off the amine smell. It only takes a small amount of amine to cause a nasty, fishy smell. Let not your heart be troubled however, because it is rare that the amine level is anywhere near causing health problems.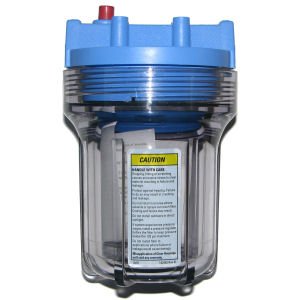 Q: What are the black particles passing into my filtered water, and why are they there?
A: Under most circumstances they are fines of Granular Activate Carbon. They are not harmful if you consume them, but as a rule don't risk that the particles might be something toxic. send them down the drain. Carbon is compacted and compressed into home filters. In transit some physical force can shake the filter up and cause some small mounts to pass into the water. Just remember to rinse your new filter cartridge should be just fine.
Q: Why is my inline whole house water filter housing clear, transparent plastic?
A: It is clear because the person installing it was not competent at installing water treatment equipment. Clear housings are great in industry, like steel mills where a worker can see how much grease, oil and junk has clogged the filter, giving them a guess at when it will need replaced. The problem with clear housings is that they allow sunlight to filter in. Sunlight speeds up the growth of algae, fungi and molds. Please switch your clear plastic housing to an opaque one.